Keeping families connected: Facebook Live
In this crazy new world of coronavirus and isolation, how can we help our families stay connected to church and to each other? In a Lunch with Rachel webinar, Rachel Turner explores some ways we can truly be church in the most challenging circumstances.
Church is cancelled! Something that would have felt impossible just a few weeks ago has actually happened, and children, youth and families leaders all over the country are stepping up and finding all sorts of creative ways to support the kids and families they work with. It may feel that things are fragile and unknown, but this is an exciting time for us, and our churches, families and ministries are going to be so much stronger at the end of this season.  
In an extended 'Lunch with Rachel', our monthly webinar for children, youth and families leaders, Rachel Turner makes some suggestions about how we can all still be church in this crazy time. Many of us have already leapt into action to problem solve 'how to do church when we can't be together'. But by slowing down for just a moment, we can do the thinking behind the problem solving so we can find solid solutions to make our ministries more impactful, to solve the Sunday problem, to resource families and to keep our kids and youth tied in.   
Unfortunately, the Facebook Live video was removed but Rachel lovingly re-recorded the whole thing, trying to cover the same points. You can watch below.
Understanding what church really is
While our first instinct might be to try and replicate church at home, a more important thing to understand is what is the purpose of church? What are all these gatherings we have actually for?
Rachel suggests that there are five key elements of church:
To draw near to God (Hebrews 10:19-24)
To spur us on to good works (Hebrews 10:19-24)
To be the body of Christ (1 Corinthians 12:12-13:13)
To pursue the Holy Spirit (2 Corinthians 3:18)
To radically love others (Acts 2:42-47)
If these are all things we experience when we gather together, what we should be looking to do in this new season is to ask how we can help people still experience those things when they can't gather together. Our challenge now isn't to decide what we do instead of church, but to decide how we can be church together in this new season.
So how do we do this with parents, kids and our congregations? 
This might represent what our normal church looks like: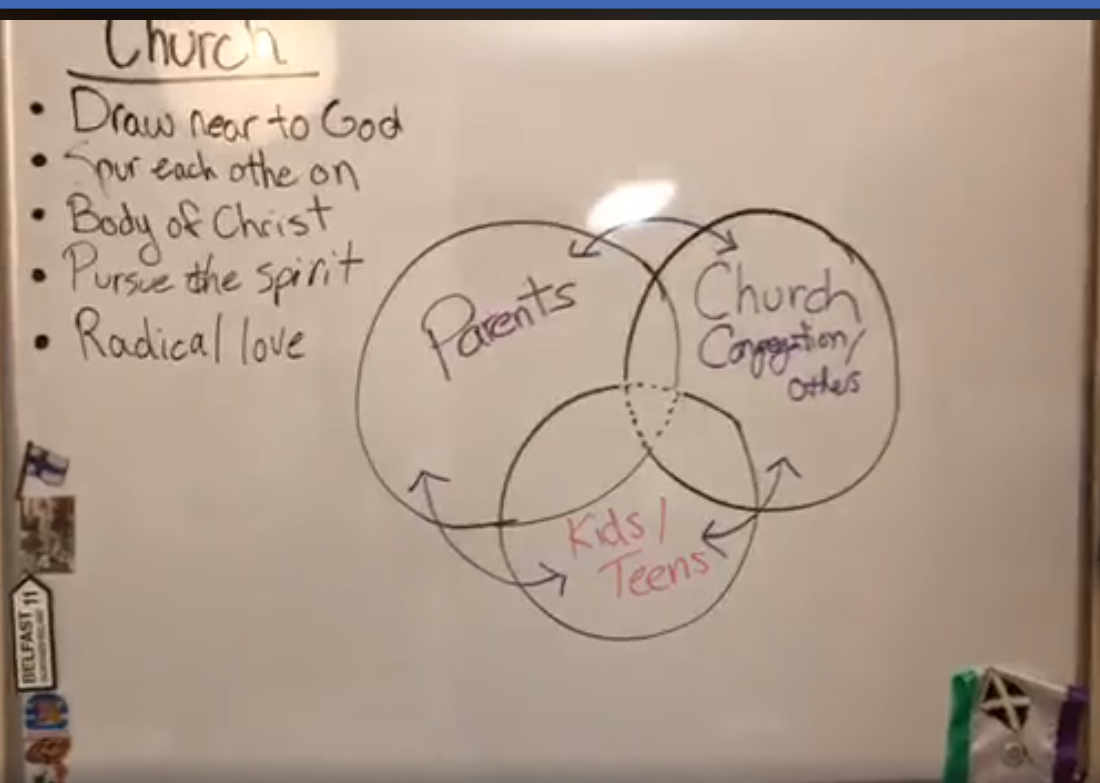 The middle bit, where all three groups overlap, is all the times when we gather together and experience church together. And the problem is that now we can't do the middle bit we need to find what to do instead.
One idea can be to use digital solutions: to get together online. And that's something many of us are beginning to do. But it's not the whole answer. Online changes something; it isn't a direct replication but has strengths and weaknesses. It is a useful tool, but, as with all tools, we need to figure out what tool we need and then find it rather than grabbing the first one we find.
Now that the middle bit can't be there, Rachel suggests that rather than trying to recreate it at home, we have to invent new ways – find new tools – for each other to experience those five elements of church, and of helping parents, kids and the congregation feel connected in to the whole and to each other.  
Parents 
So how can we help our parents feel connected in? We know that it's the church's job to resource and empower parents as they disciple their children (for more about this, see 'It Takes a Church to Raise a Parent'), but in this new season there are some things it's worth thinking about.
1.    Be IKEA for our parents
By offering parents more things to do, we might just be adding to their load at a time when they are stressed, vulnerable and bombarded with things to do for and with their children. They probably don't feel equipped for all the new roles they have, and are probably struggling with their emotions and fears. And many will lack the confidence to do all the spiritual stuff they think they 'should' do.
But what we can do is to position our hearts right, to be what our parents need us to be now. And that means being IKEA for our parents: an encouraging space that says, we're here for you, look at all these options, find what works best for you. It's not about what we think is right for you, it's what works best for you and what fits in with you and your family right now.   
2.    Find out what parents need, not what that they want.
It can be difficult for parents to know what they want in this new season and they will often to default to what they think they should have . So we need to draw close to them and listen to their hearts. The easiest way to do this is to find ways to have good conversations with good questions so you can hear what what they really need. This might be by calling them individually, setting up a Facebook page or Whatsapp group, Skyping in with them, for example, and asking questions that may help you discover how they are feeling and what stresses they have that you can solve. Some examples of the sorts of questions you might ask could include:
What is the worst part of isolation for you?
Are there any unexpected good parts?
What are the kids missing about the church family?
Sometimes kids are glad not to go to church … how is that conversation going? How do you feel about it?
How are the kids doing? What are they feeling?
How are you all holding together?
Are there any questions coming up that it would be helpful for us to do some thinking on for you?
3.    Equip parents to be the resource rather than need a resource
Parents, just as they are, whether they are stressed, ill or exhausted, are enough just as they are to coach their kids spiritually.  We want them to know that this season is incredibly spiritually significant for their kids and they, just as they are, can do this. They don't have to do anything but be them in this space, and we can help them do that.
The Parenting for Faith website has a lot of tools and skills to equip parents to help their children meet and know God in the everyday bits of life; there are also lots of small suggestions in 'It Takes a Church to Raise a Parent' for ways you can build parents' confidence in using these tools and skills. You might also want to run a Parenting for Faith course online or recommend 'Parenting Children for A Life of Faith Omnibus'.
We want to take the 'should' off parents; to help them feel like they are good enough. They don't need to do church at home: they just need to be themselves at home.
4.    Give them the gift of each other
Parents really need each other now! If you don't have them already, create that Facebook page, host a Google hangout, set up a Whatsapp group, so they can have access to each other. Be part of those groups, so that they get access to you and you get to encourage them and cheer them on.
5.    Respond to the needs that come up
If you spot a need or a parent asks for something particular, then point them to tools and resources in response to individuals and trends. Let them know what's on offer.
Kids
As children, youth and families leaders, we deliver great programmes week in, week out for the children and teens we work with, but we sometimes forget that the real heart and strength of what we do is the relationships we and the rest of church have with them. We learn as we interact with each other, from conversations and questions, from hearing each others' stories and seeing each others' lives.
There are some key ways kids benefit from church:
it is a place where they are seen and known by a multigenerational community that is invested in them and loves them
it is a place where they connect with each other
they know the joy of being church together
it is a place where they learn about God through all they do and experience, not just in their groups or hearing a sermon
We can point them to great resources out there to give them Bible teaching, so let's not worry about focussing on getting our teaching out to them. Instead, let's think about how we can help them still experience those benefits of church:
How can we help kids still be seen and known?
For example, could you assign a leader from your programmes that they already know to keep in touch with three or four kids (with parents' permission): maybe calling them once a week to check in on how they are doing, give them someone to chat to or complain to, see if there's anything we can help with?
How can we help them connect with each other?
For example, planning fun opportunities to connect a virtual party where you get to dress up / games that kids can play over Skype / midweek online group where you do challenges for prizes, play a game, chat together.
How can we remind them of the joy of church? 
Kids might like to have something familiar from church to remind them of their connections to it; you could give them each something new, like a bag of stones to paint or colour with people's names from church or however they want to that they share. Find out what they are missing from the joy of church and problem solve how you can help them find it again.
And the learning happens all through
There may be times when you have specific Bible teaching (not just Bible studies or small groups; what about doing a virtual bible story where kids are on Skype and each gets to act out their part as you read the story, or where you chat and catch online?) but just as you do in real life, so much of our learning about God is organic when we are together, through conversations and sharing of stories
As we enter this new season,the best question we can ask ourselves is how can we give them these aspects of church even when they are in isolation, not how can we replicate the programmes we deliver when we are together.
Church congregation
The wider church congregation is so much part of what we do with children, young people and their families: it is necessary for them, and they are necessary for it. So the challenge we have for this new season is how to empower and integrate the wider church and strengthen the connections between them, the parents and the children.
Remind them that they need each other. Create opportunities for people to connect during isolation (bearing in mind not everyone may be able to communicate digitally), for example:
Buddying up families with singles / older people to pray for each other
Gifting people food bundles
Sending videos of encouragement to each other with messages from everyone in the family
Facilitate a weekly 'what is God doing' get together or newsletter and share stories of what the church is doing, how people are helping, what God is doing
Hold the fringe: it can feel a real challenge to pastorally care for the dozens of fringe families who have been part of your clubs and groups, but the congregation can help, and it may be an opportunity for volunteers who don't normally have the time  to come alongside you and help. For example, if you set up a new Facebook page for your toddler group where they can share their concerns and needs, include some wise pastoral people from your congregations so they can help support people; or you might offer a dedicated phone number for any of your families who need to chat or need help, and you have a rota of congregation members who will monitor and answer the phone. 
Facilitate whole church together moments: not just the online services. How can we create small, tangible, interactional  reminders that we are still one body of Christ? This may be everyone doing the same thing at the same time, like lighting a candle, or creating a photo collage of everyone and then getting it out to everyone in a medium they can access so they can see it everyday.