Me, God and Covid-19
Some printable pages for you to use with your family or share with families in your church.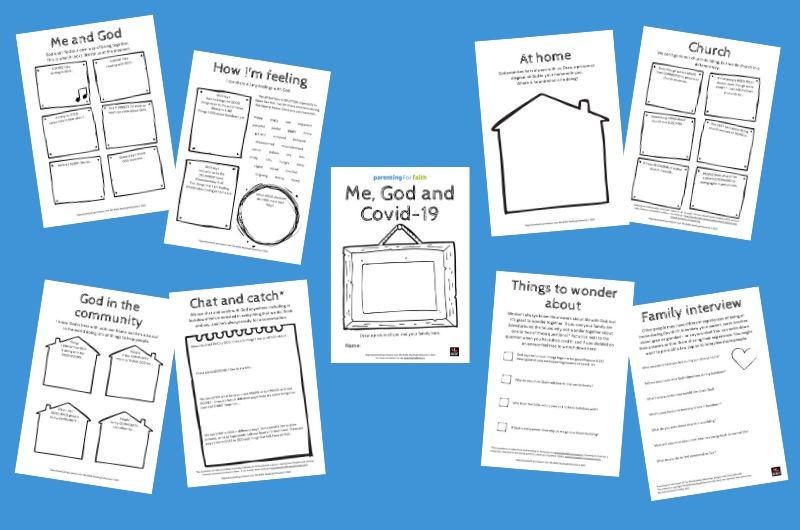 Explore our other free resources for helping you, your family and your church in this time, here.
Notes for parents and carers
These journal pages are to help you and your children capture a little flavour of what God was doing in your lives and home during this Covid-19 season. Please don't feel any pressure to write or draw in all the sections or feel like there are any right ways of engaging with this! These pages may serve as an opportunity to have conversations you haven't had yet or to remember some you already had. You may want to take one question at a time, or your child may want to do the whole thing at once. Not all children enjoy writing and drawing, so if you have one of those children, you may want to use this workbook as a prompt for conversations to have or even as questions to ask your child in recorded video interviews. You are the expert on your child, and this is simply one more tool that is available to facilitate you doing whatever is right for your family, however it looks.
Helping children talk about the ups and downs of life with God is a great gift we can give to our children. Some of the questions in this workbook may feel a bit uncomfortable, but the more we can encourage our children to be authentic and honest with God and about God, the more confident they become in their faith journey with him. You will notice there is an interview page, where your children will ask you questions. Please be bold to answer the questions honestly. One of the greatest gifts you can give your children is the opportunity to see what a real relationship with God looks like in an imperfect person who is still on the journey with God. You as a parent don't need to have the 'right' answers, just your answers!
You may see asterisk marks next to some questions, like this *. At the bottom of the page you will see a suggested link for you as a parent if you would like some help in exploring this area more with your child. It will direct you to articles, videos or other help for you to add to your thinking around the area.
If you would like some more support around your role as a parent in the spiritual life of your child, head to parentingforfaith.org for free podcasts, videos, articles and encouragements as well as more help in discussing the spiritual side of this season with your children.
We hope this little springboard will facilitate many great conversations with your children and help you capture where God was and how your children connected with him in the midst of Covid-19.
May God give you lots of sleep and stamina,
The Parenting for Faith Team