Debriefing a Church Service
How can we explore our experiences of church together?
As well as pointing things out throughout the service you can also use the time on the way home or the first meal after church to help them make sense of it a bit more. Debriefing is really just another part of the key tool of framing and can work really well for something like a church service, where you might have a chance to reflect on it together afterwards.
Here are three simple steps for how you might do that:
1) Create a window into your own experience.
Verbalise your thoughts, that might be what helped you connect to God, how you felt, anything that made you think, people you want to follow up with.
2) Ask questions that help them explore their experience.
Use open questions and focus on connection. You could try things like:
Was there any part of the service where you felt especially close to God today?
I'd never thought about that Bible verse like that, what did you think?
Is there anything still buzzing in your brain from your group today?
This can naturally follow on from your own experience even if they have been in kids' groups and you've been in the main service. As you keep creating a window into your experience and asking questions out of that, you may find they start doing the same for you, so be ready to answer questions as well as ask them.
We have a printable with 20 possible questions to give you some ideas. Why not save it to your phone or print it off and stick to your fridge?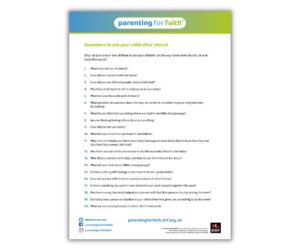 3) Join the dots between church and the rest of life, whether that's home, school or work.
Bring it into the rest of the week. How might you take it forward?
Do they need to go and research something they weren't sure about?
Was there a song that really helped you connect with God that you want to play or sing this week?
Did God place a person or situation in your mind where he's given you something to do?
Here's a handy downloadable postcard which summarises this article.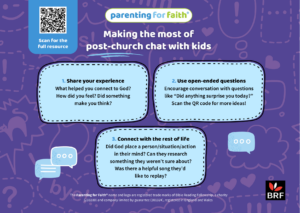 You might also be interested in: