Refresh – a different sort of toddler group
How can we help parents and carers of young children meet Jesus? Caroline Montgomery talks about 'Refresh', a toddler group with a difference.
Update: since this post was published, Caroline has released a book all about Refresh, including 33 ready-made 'thoughts for the day', which you can buy here.
Caroline launched and runs a group called Refresh, which is a cafe where the focus is on the adults having a refreshing morning – physically (with fresh coffee and croissants, cafe music), emotionally (time to sit and talk with an amazing team of volunteers, make friends, enjoy a sense of community and belonging) and spiritually (with a short 'thought for the day' aimed at the adults to help them know more about God and how much He loves them) whilst also having a safe space for their children to play.
There are so many groups aimed at the children but very few that are aimed at nurturing the adults where they are in this season of their lives as parents of little ones. They've seen a huge amount of fruit from taking this approach and, in her brilliant book, Caroline will help you to think through what refreshing parents and carers in your community might look like.
Watch the promotional video for Refresh here.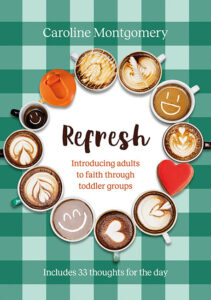 Buy the Refresh book here.
Watch Caroline's Refresh training video from our Babies and Toddlers training morning here.
Explore our 'Stepping Stones' sessions.
Watch our Bitesize Babies and Toddlers videos.
Buy Babies and Toddlers: Nurturing your Child's Spiritual Life by Rachel Turner.
Check out our Baptism and Dedication Preparation Videos.